Sale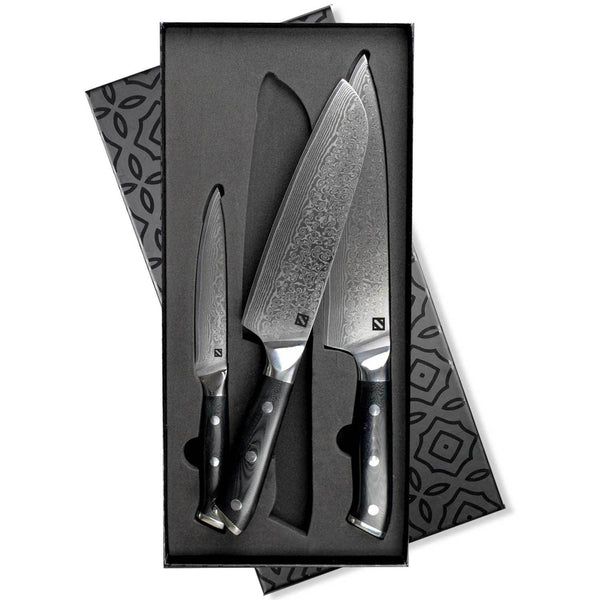 3 Piece Damascus Knife Set VG-10 High Carbon Steel Core, Polished G-10 Handle
Features and specs:
Forged VG-10 High Carbon Steel Core sandwiched between 16 layers of Damascus
Core has a Rockwell hardness of 60 +/- 1 HRC
Full length tang
Handle made from polished G-10
17.5° double-bevel edge (35° comprehensive)
120-Day Manufacturer Warranty
Great Food Doesn't Just Happen:
Great food doesn't just happen – it's made meticulously from start to finish. And the secret to acing the process of creating great dishes? A set of great, trusty sharp knives. 
Zelancio commits to hand selecting food preparation accessories to help passionate chefs and home cooks whip up every dish that they desire. The Zelancio 3 Piece Pressed Damascus Steel Knife Set is evidence of that. 
Whether you are chopping greens, slicing meat, or cutting bread, you will find the appropriate blade with the Zelancio 3 Piece Knife Set. Each knife is made in Damascus tradition that is known for forging tough and resilient blades. Still, these Zelancio knives are easy, safe, and comfortable to use, what with its balance that makes each knife lend itself easily to the user. The result? A weighted knife that cuts powerfully but is light enough to avoid usage strain. 
One set of the Zelancio Pressed Knives includes one paring knife, one utility knife, one Santoku knife, one bread knife, one Chef's knife, and a honing rod to sharpen your blades as you see fit. Why buy separate blades and honing accessories when you can get them all in one convenient, handsome set? 
Every blade is made of 16-layer steel that was hand forged and pressed into one powerful, sharp knife. The handle of each knife is made of teak for a strong yet comfortable grip to bring out every user's cooking passion and expertise. 
Besides its high functionality, the Zelancio Pressed Steel Knife set also boasts an aesthetic appeal. Whether you're a professional chef or a passionate home cook – the intricate Damascus pattern seen in each knife makes this set a beautiful addition to your kitchen.
Zelancio 3 Piece Demacious Steel Knife Set Includes:
3.5" Paring knife
7" Santoku knife
8" Chef's knife
Hand washing recommended: We strongly discourage running these knives through the dishwasher. These knives use a high carbon VG-10 steel which is more likely to rust. The detergents used in a dishwasher can also cause etching of the knives surface, and may crack the handle.
This page shows warranty on everything