Sale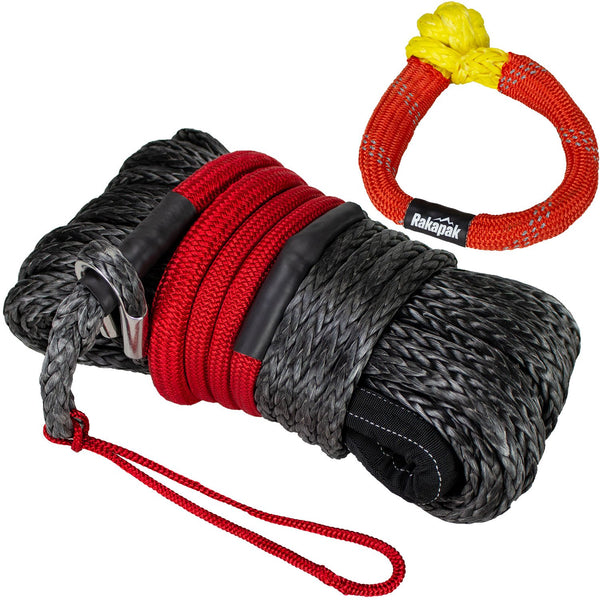 Rakapak UHMWPE 100ft Synthetic 3/8 in Winch Line 22,000 LBS Breaking Strength with Soft Shackle Rope, Abrasion Sleeve
Package Includes - (1) 10.8mm thick Synthetic UHMWPE winch line and (1) UHMWPE Soft Shackle
UHMWPE Nylon Rope Winch Line
100 FT Long
3/8 inch (10.8mm) thick
22,00 LBS breaking strength
5ft Movable Abrasion Sleeve with reflective stitching
Protective Heat Sleeve for the first 6 feet of line with heat shrink tubing at both ends of the sleeve to prevent fraying.
Stainless Steel Closed Thimble
5 Inch long 1/8 inch thick drum prefeed loop. For a through the drum style winch. Threads into the drum eye first for so you can easily pull the rope through.
Light enough to float on water.
1 Year No Questions Asked Warranty
UHMWPE Nylon Soft Shackle
1/2 inch thick
31,000 LBS breaking strength
Protective AbrasionSleeve
AbrasionSleeve has reflective fibers woven in.
Constructed from a single piece of rope
High visibility colors
Light enough to float on water.
1 Year No Questions Asked Warranty
Specifications - Winch line rated at 22,000 LBS breaking strength, Soft Shackle rated at 31,000 LBS breaking strength. Includes a 1/8in diameter prefeed loop to easily pull the rope through the drum eye. Recommended or use with an Aluminum Hawse Fairlead.

Advantages Over Steel - Synthetic Winch lines will not stretch like steal lines, and store less potential energy, reducing the likelihood of whipping if the line breaks. Soft Shackles give you more options for pulling locations and can be pulled in any direction. The load is spread evenly around the shackle and doesn't have any natural weak points.

Protective Sleeves - First 6 feet of winch line is covered in a protective sleeve to combat heat generated by winch drum, both ends of protective sleeve are wrapped in heat shrink to prevent fraying. Also includes a 5 FT movable Abrasion sleeve that can be moved to protect the rope against a contact point like the ground when pulling over a crest.

Reflective Elements for use at Night- Our soft shackle sleeve has reflective fibers woven into it and our abrasion sleeve has reflective thread stitching, making them easier to spot at night. Reducing the likelihood of a tripping hazard.
This page shows warranty on everything