Sale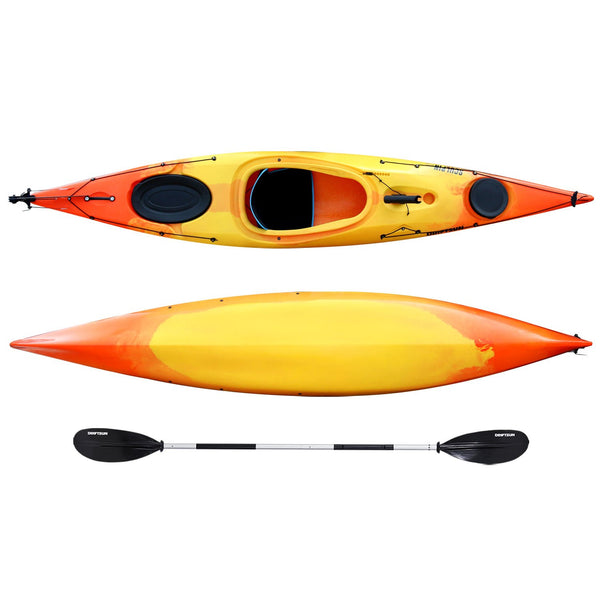 Sculpin 12.5 foot long Rotomolded Sit-In Kayak, Includes SmartTrack Foot Operated Rudder
Specs and Features
Weight: 55 Lbs (25KG)
Weight Capacity: 330 LBS (150KG)
Length: 12' 6" (385 CM)
Width: 26" (66 CM)
Height: 13.75" (35 CM)
Includes SmartTrack Foot Operated Rudder that can be raised and lowered remotely
Aluminum Paddle Included - 90.5" (230CM) long with Drip Catchers, Fiberglass Reinforced Polypropylene Bades
Fishing Rod Holder Included
Spray Skirt Compatible (not included)
Front and Rear Dry Storage
Includes Paddle Park and Bungee Cord Storage
The Driftsun Sculpin 12.5 Ft Rotomolded Sit-In Kayak is designed for water with a little bit more chop. The fastest kayak that Driftsun sells, the Sculpin kayak includes a foot pedal rudder for better control and tracking. Also included is a sturdy yet light paddle for smooth, skillful strokes to pull you through the lake, ocean, or river.

The easily accessible and spacious cockpit makes it easy to get into and ride the kayak. It is designed with a padded, ergonomic seat that can be adjusted for the comfort. As a sit-in kayak, the Sculpin is ideal for paddlers who want to stay dry while paddling. It is spray skirt compatible for extra splash-protection.

The Driftsun Sculpin is ideal for new and experienced paddlers alike:  Its 12 ft length and 25 kg weight make it a solid and steady kayak for beginners while its sleek V hull gives it the speed and responsiveness that experienced riders will appreciate.

Designed with a small dry storage compartment up front and a larger dry compartment at the rear, riders can keep essentials handy and safe the whole trip. The kayak is rigged with a rod holder to give anglers better fishing position.

Made with durable, impact resistant rotomolded materials and construction, the Driftsun Sculpin 12.5 Ft Sit-In Kayak makes for a steady and comfortable ride even through tough paddling conditions.
SmartTrack Rudder Included. Foot operated rudder helps the kayak track properly and turn quickly. The SmartTrack Rudder lets you stay in control and maneuver the kayak to the right direction even on windy days and in currents.
Front and Back Dry Storage Compartments. Take the kayak in and out of the water with all your essentials handy. The front side of the kayak has a small dry storage compartment while the rear end has a larger storage unit. The dry compartments are designed with easy to remove and attach covers.
Includes Paddle and Accessories. No need to pay extra to rig your kayak. The Driftsun Sculpin comes with a paddle and rudder. It is equipped with a rod holder and is also spray skirt compatible.
Solid and Secure Ride for New and Experienced Paddlers. From its 12 ft length and 25 kg weight to its V-shaped hull, the Driftsun Sculpin is designed for a solid, responsive, and smooth ride suitable for paddlers of all skill levels. The hull is made with tough, impact-resistant rotomolded plastic.
GUARANTEE ON WORKMANSHIP & MATERIALS - All Driftsun Kayaks come with a 1 Year Guarantee on material, workmanship, and assembly + 30 No Hassle Returns
This page shows warranty on everything