Sale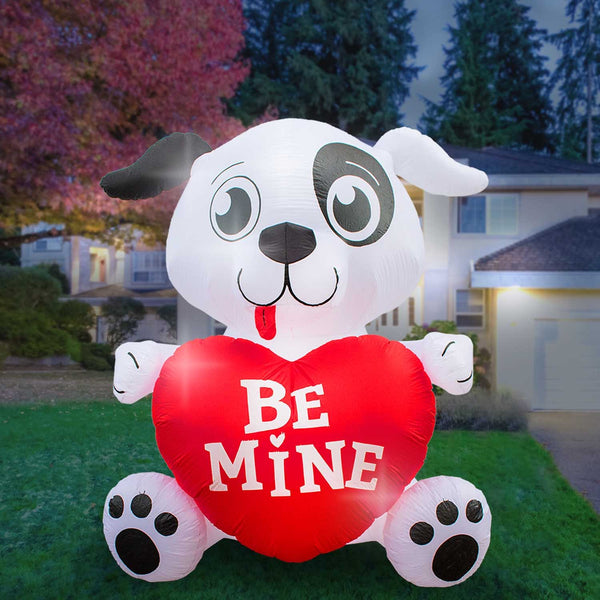 Inflatable Valentines Day Dog with Heart Decoration with Built-In Fan and LED Lights
Spread love this Valentine's Day with the Holidayana 8-Foot Inflatable Dog with Heart Decoration! This adorable Valentine display is sure to capture hearts in your neighborhood! 

If you're down to celebrate beyond the traditional Valentine staples of flowers and chocolates, then the Holidayana Valentine dog is for you! 

It's the perfect backdrop as you enjoy a nice, quiet dinner by the poolside, in the garden, or indoors. If you're celebrating with a group of friends, setup the inflatable decor by the driveway or your front yard to welcome guests. It will even serve as a delightful background for when you take photos to share on social media! 

Because the Valentine Dog inflatable comes with internal lights, it will glow beautifully in the background as you enjoy your dinner or glass of wine. Talk about adding a soft, dreamy glow to an already romantic evening! 

You'd think that a Valentine-themed decor this special is complicated to put up. But as inflatable decor experts, Holidayana has designed the Valentine dog with a stress-free setup. It has a built-in fan and tie-down ropes, so you can get it up and ready without breaking a sweat! The inclusive tie-down accessories also mean the inflatable stays in place wherever you decide to put it. 

February 14th doesn't need to be predictable — not when you celebrate with the Holidayana 8-Foot Inflatable Dog with Heart Decoration!
This page shows warranty on everything