Sale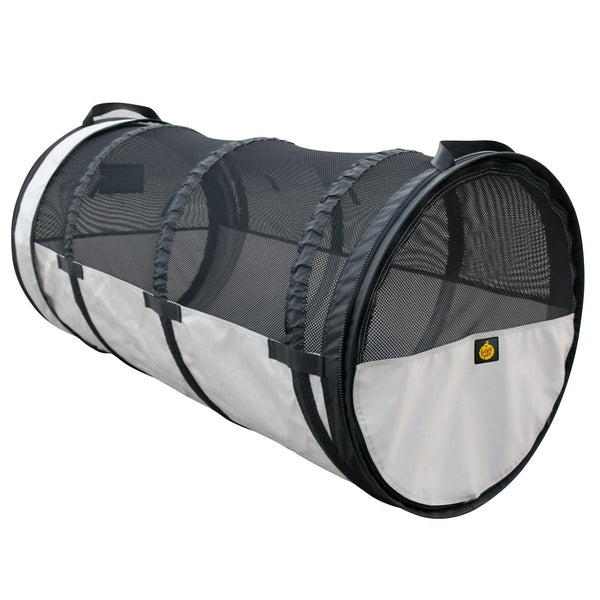 Pet Tube Car Kennel: Universal Fit
Keep Your Pet Safe When Traveling With A  Car Tube Kennel!
Treat your pet to a fun and safe ride with the FrontPet Backseat Pet Travel Tube car crate! Our pet travel kennel is made to allow your pet to have full range of the back seat to roam while traveling in your vehicle without the hassle of a barrier.

Reinforced safety straps ensure your pets safety in place in the event of an accident by keeping the car carrier secured! The comfortable reinforced bottom will also protect your vehicle's interior from tears and rips your pet might inflict with its claws and teeth!

With mesh canopy top, your pet will have a full field of vision and maximum ventilation while in the tube. Our unique design will fit in any vehicle because it adjusts to fit the length of your backseat no matter how many vehicles you have! The pet tunnel is easy to store and fit anywhere because it can fold into a flat, convenient carry tote with an included carry strap!

FrontPet Car Crate Tube Kennel Features: 
• Extended Dimensions: 47" L x 24" W x 24" H inches
• Folded Dimensions: 24" L x 24" W x 1" H inches
• Adjusts to fit almost every vehicles!
• Weight: 8 pounds
• Material: Rip-stop nylon
• Ventilated mesh canopy top
• Integrated zip up design
• Metal extension clips for added stability 
• Carry handles for added convenience

Hit The Road With Your Pet &
Order Yours Today!
This page shows warranty on everything