Sale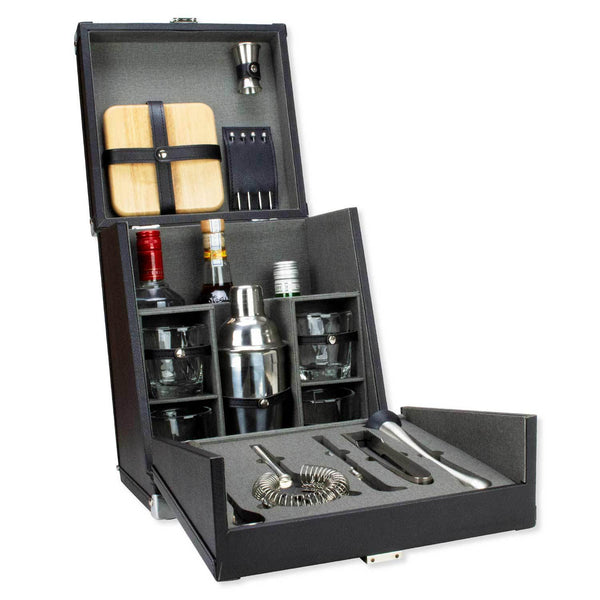 Premium 17-Piece Portable Barware Set with Travel Cocktail Bar Box
Tailgate, picnic, impromptu outdoor parties – some celebrations that call for a drink don't always happen where you can fix your favorite cocktail. 
That is why Atterstone created the perfect solution, so that connoisseurs and fine liquor aficionados can enjoy their cocktail of choice anytime anywhere. 
Introducing the Atterstone 17-Piece Portable Cocktail Set. The set comes with a handsomely made black travel bar box with a leather handle and organized interior compartments to hold the accessories in place. 
With a portable and bar that you can carry anywhere, you can enjoy your favorite liquor wherever you go and share a toast whenever the occasion calls for it. 
Besides being a great fixture for traveling and outdoor partying, the tool in this barware let you practice on your mixology skills – you can make the classic, well-loved alcohol drinks or stir up new infusions yourself! 
This 17-Piece Portable Cocktail Travel Case also makes for a personalized and thoughtful gift for the mixologist or bartender in your life. 
Atterstone crafted the Cocktail Travel Set for amateur mixologists and professional bartenders alike. It has everything you would need to help you concoct a glass of Manhattan, Amaretto Sour, Gin and Tonic, or Old Fashioned! We have included a list of recipes for these well-loved cocktail drinks! 
Atterstone Portable Cocktail kit Includes:
• 1 Jigger
• 1 Shaker
• 1 Bar Spoon
• 1 Strainer
• 1 Garnish Knife
• 1 Pair of Ice Tongs
• 1 Muddler
• 1 Wooden Cutting Board
• 1 Travel Cocktail Bar Box with a leather handle
• 4 Lowball Cocktail Glasses
• 4 Garnish Picks
This page shows warranty on everything